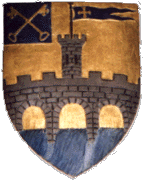 Admiral Sir Ernest Troubridge
Ernest was a younger brother to Laura Troubridge. In "Life Amongst the Troubridges" she describes how, aged 13, he came first of 68 candidates in the Navy entrance exam in June 1875. It was obvious that his sisters missed him greatly when he went to sea that year. For example, when he came home to Runcton on November 24th 1881, they were ecstatic. He had been at sea for four and half years, and was then nineteen.
The diary also records how, one day in May 1883, his sisters (while in London) discovered that he had left England unexpectedly the day before, having been appointed to the "Satellite" at only one day's notice, and that they wouldn't see him for two years.
He had a distinguished naval career, but two incidents brought him into the public eye in an unfavourable light:
In August 1914 he was Commander of the First Cruiser Squadron, patrolling the Adriatic, when the German battle cruiser the Goeben and light cruiser the Breslau escaped from the port of Messina and sailed to the Dardanelles, bringing Turkey into the war. In brief, Troubridge understood that he was ordered not to engage with a superior force, as he belived the Goeben to be. The full story can be found in Geoffrey Miller's book "Superior Force" or on his web site. After this disaster Troubridge was court martialled in November 1914, and although cleared, his career was blighted. He was, however, promoted to full Admiral in 1919 and was knighted the same year.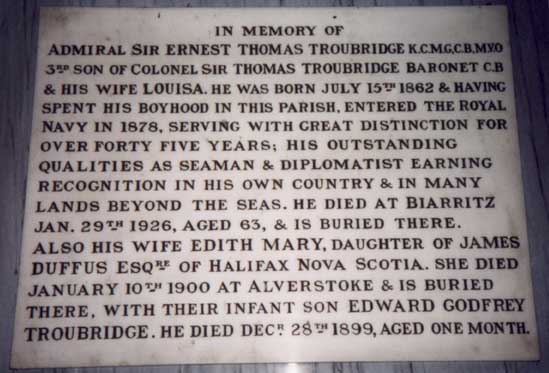 Ernest Troubridge had three children surviving from his first marriage, who were cared for by his sisters Amy and Helen. In October 1908, he became married for a second time, to Una Taylor, with whom he had a daughter. Early in 1919, this marriage arrived at a legal (and very bitter) separation. Una Troubridge's relationship with Marguerite "John" Radclyffe-Hall, author of "The Well of Loneliness" was a scandal, and the matter was given a full public airing during a slander case Radclyffe-Hall took against George Fox-Pitt in 1920. Fox-Pitt had slandered Radclyffe-Hall with information gained from a conversation with Ernest Troubridge, and the court case caused immense embarrassment to the Admiral and his family.
back