Daniel Gurney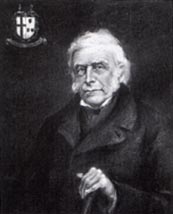 Daniel Gurney (1791-1880)
painted by Laura Hope (née Troubridge)
Reproduced from "Life Amongst the Troubridges"
Courtesy of Tite Street Archives
Daniel (Dan) Gurney was born on March 9th 1791, the youngest of 11 children (another child, a first son, had died in infancy). His parents were Catherine (née Bell) and John Gurney, who came from a long-standing Norwich family of merchants and members of The Society of Friends (the Quakers). In addition to trading, John Gurney had interests in Gurneys Bank, founded by his cousin Barlett. Having previously lived in Magdalen Street, Norwich, the family moved in 1785 to Earlham Hall, outside the city. Their time there, and the children's lives subsequently, are described in The Gurneys of Earlham Vols I and II by Augustus J.C. Hare, published by George Allen in 1895. Earlham Hall is now part of the University of East Anglia, housing the School of Law.
Daniel's mother died in 1792, when he was not yet two years old, and his eldest sister Catherine, 15 years his senior, brought up the family. His brothers Samuel and Joseph went to a Mr Browne's school (at Wymondham and Hingham), and Dan did likewise. He also studied for some time in Oxford with Mr Rogers, who took a few pupils independently of the University.
By 1809 he was working at the King's Lynn branch of the family bank, sharing a house with his brother John. In this year Dan contracted scarlet fever (he survived, but the long-serving family nurse, who came over from Earlham to care for him, caught the disease and died). This was also the year their father died.
The move to Runcton
John died in 1814 aged 33. Dan's sister Rachel came to live with him, and in 1815 they toured Switzerland and Italy for six months. In the following year Dan and Rachel moved to North Runcton. Katharine and Rachel, the two eldest daughters of their sister Elizabeth (Fry) joined them for a lengthy stay. This was to ease the Fry's domestic burden (after the birth of Elizabeth's tenth child and during a slump in the Fry's trading and banking business).
In 1822 Dan married Lady Harriet Hay. Their family grew, but Lady Harriet died in 1837, leaving her husband with eight children to raise. Perhaps his earlier experience in having the Fry children staying helped him, and perhaps his own motherless upbringing gave him strengths in this situation. In 1840 his sister Richenda (Cunningham) wrote, in a letter, about his relationship with the children, "He is particular with them and will be master, but at the same time makes them at ease with him by his extreme kindness and affection". She described how Dan and the children would all sing hymns together after dinner.
Dan's sister, Elizabeth Fry
Some of the Gurney brothers and sisters, such as Elizabeth Fry, were strict Quakers ("Plain Friends"), more observant than in their upbringing. Daniel, in contrast, had become disaffected with the Quaker tradition and its tolerance of women preachers. His relationship with Elizabeth remained close and supportive, but was not without tensions, on account of her religious calling and controversial public profile. On the death in 1827 of their sister Rachel (who had been the closest to Elizabeth), she wrote of the comfort she received from her siblings, "Daniel in his uprightness, integrity, power, and sympathy, and son-like as well as brother-like attentions to me is invaluable; he has sweetened many of my bitter cups".
Elizabeth's nursing was held to have saved the life of one of Daniel's infant sons, but when she visited Runcton on the death of Lady Harriet, she was warned against giving any sermons in the house, and was forbidden from reading the Scriptures to the family. Indeed, it was her spontaneous preaching at their father's funeral in 1809 which had contributed to Dan's disaffection with the Society of Friends. The crash of the Fry Bank in 1828 must have strained relations too. Joseph, Samuel and Daniel Gurney salvaged the tea trade from the Fry bankruptcy, but the close ties between the firms would have undermined confidence in the Gurney Bank.
The established family value of religious philanthropy motivated Daniel in a number of directions. He was the driving force behind the establishment of the West Norfolk and Lynn Hospital, completed in 1834, and remained on the Board until the age of 85. Elsewhere in King's Lynn he contributed to the funding of St John's Church ("The Poor Man's Church") and commissioned Anthony Salvin to build it between 1844 and 1846. He also had St Mary's Church at Setchey built in 1844, by an unknown architect. Salvin (1799 - 1881) was a prolific and prestigious architect who carried out the substantial work on North Runcton Hall in 1835, and 1853. He had trained under John Nash and became acknowledged as an expert on mediaeval military architecture. He carried out restoration on a great many major buildings, includingWindsor Castle and the Tower of London. More locally, he worked on Norwich Castle, Norwich Cathedral and the Gurney Bank in Norwich. Closer still to North Runcton, he was the architect of St Mary's Church at Shouldham Thorpe.
In 1848-1858 Daniel published his "Record of the House of Gourney". The whole work amounted to over a thousand pages and traced the history of the family name back to Norman times. It had been compiled many years previously with help from his niece Katharine, and Dan hoped that his cousin Hudson Gurney would help fund the publication. Hudson (in a patriarchal position as the eldest son of Dan's eldest uncle) was not in favour of the project. With unkind wit he called it "The Apocryphal Book of Daniel" and questioned the interpretations placed upon the historical research. He also thought that "all families, be they who they may, have more to hide that to tell of." Daniel may have felt that there was more to gain if he could demonstrate a prestigious ancestry as, at the time when much of the book was written, he was courting Lady Millicent Acheson. She turned down his offer of marriage, but his eventual bride, Lady Harriet, was the daughter of the 15th Earl of Errol.
He also wrote pamphlets on his profession: "Thoughts on Banking" was published in 1872.
Later years
His eight children, meanwhile, had all married. The first of these weddings, of Harriet to William Cowper (Lord Mount Temple) in 1843, was clouded by her death in the same year. Louisa (Troubridge) also did not outlive her father, dying in 1867. Daniel was 72 when he then took on the arrival of the six orphaned Troubridge children at Runcton Hall, as described in "Life Amongst the Troubridges". In all, Daniel Gurney had 47 grandchildren.
Continued life at Runcton was only possible because of £2,000 a year from his sister Hannah (Buxton), allowing Dan to remain in his home with the Troubridges. In 1865 Dan's fortune had been lost in the collapse of the bank Overend, Gurney and Co. Ltd, of which he was the senior partner. In the process, Gurney's Bank was taken over by the Barclay branch of the family and Barclay's Bank was founded.
After 1856 only he and Hannah had remained of the Gurneys of Earlham Hall. Hannah died in 1872, aged 89, and Daniel reached the same age when he died on June 14th 1880.
Sources:
"The Gurneys of Earlham Hall" Vols 1&2 by Augustus Hare.
George Allen, London 1895.
"Elizabeth Fry, A Biography" by June Rose.
MacMillan 1980. ISBN 0 333 23806 0
"Life Amongst the Troubridges" by Laura Troubridge,
edited by Jaqueline Hope-Nicholson.
Tite Street Press 1999. ISBN 0 9534746 0 7
"The Northrepps Grandchildren" by Verily Anderson
Mallard Reprints 1979. ISBN 0 904623 99 8
"Friends and Relations Three Centuries of Quaker Families"
by Verily Anderson.
Hodder and Stoughton 1980. ISBN 0 340 22214 x

"The History of King's Lynn Volume 2" by Henry James Hillen.
Originally published by the author in 1907
republished 1978 by EP. ISBN 0 71581305 6
"The Buildings of England.
Norfolk 2: North-West and South" by Pevsner and Wilson.
Penguin 1999. ISBN 0 14 071060 4
© 2002 Copyright Rod Humby
www.runctonweb.co.uk