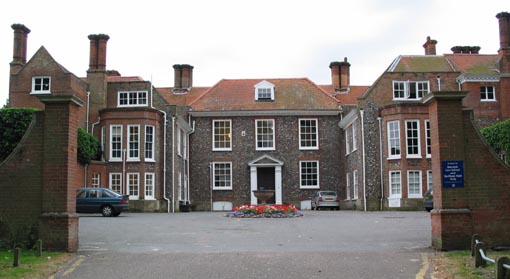 Having previously lived in Magdalen Street, Norwich, the Gurney family moved in 1785 to Earlham Hall, outside the city. Their time there, and the children's lives subsequently, are described in The Gurneys of Earlham Vols I and II by Augustus J.C. Hare, published by George Allen in 1895. Earlham Hall is now part of the University of East Anglia, housing the School of Law.
A plaque by the door reads: "Earlham Hall - The home of the Gurney family from 1786-1912. It was visited by their many friends including Amelia Opie, Harriet Martineau and William Wilberforce. The hall dates from c.1642"
Below: The small church on the Earlham Hall estate, with Earlham Lodge in the background.
Ther are some other photos of the hall at Quakerinfo.com
© 2003 Copyright Rod Humby
www.runctonweb.co.uk