Click on the village sign above when you are ready to go back to the main menu
Two historical maps
For maps showing the location of North Runcton click here

For a plan of the village today click here

For the main North Runcton history page click here

For historical maps provided by Norfolk County Council click here
This is taken from the David & Charles map "Sheet 45, Downham" (printed by Redwood Books Ltd 1980, ISBN 0715348426). The map is a facsimile copy of the First Edition of the one inch (to the mile) Ordnance Survey.

The original was published in 1870, but the mapping was mainly carried out between 1810 and 1820. The map shows a rather exaggerated slope away from North Runcton, and the location of toll points on the King's Lynn to Norwich road.

Note that where the road from the village meets the main road, the junction is shown as a crossroads with the road leading north east to what is now Fair Green. This junction is now an offset "dog-leg" junction.

Map of the village in 1826, from Bryant's Map.
Reproduced with permission from the Larks Press edition see book list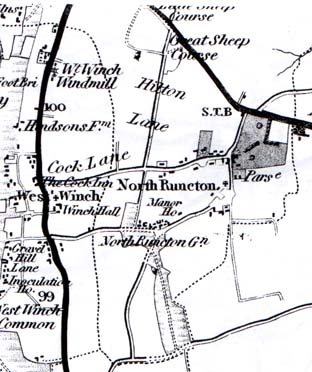 This map shows the junction at the main road as a dog-leg, and next to it what appears to be park land north of the Parsonage ("Parse").
There is a string of dwellings along what is now Rectory Lane (or "Cock Lane", with the pub of that name at the West Winch end). The other cluster is around the Common, here called the Green ("Gn") and the Manor House.
The Church is shown by a cross to the right of the words "North Runcton". Notice that the road runs to the east of it, not to the west as at present. It seems that when the Hall was built in 1835, this road was diverted westwards by about 300 metres (a fifth of a mile) and this is when it became known as "New Road".
top